Nonlinear waves; PDEs with Hamiltonian structure; stochastics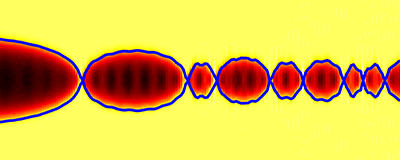 Domain walls play a key role in condensed matter physics, cosmology, and biological physics. Their dynamics determine bulk properties of materials undergoing phase transitions, as theorized by Nobel Laureate Lev Landau. We characterized a new class of weakly localized domain walls and formulated a new theory of their interactions, overturning decades of intuition. See also langevinkinks project.
Nonlinear Fourier analysis and transforms for ocean acoustics modeling (NONFATFOAM)

The extension of normal mode analysis to nonlinear systems is a pressing unsolved problem in engineering. The theory of nonlinear evolution equations offers an approach to generalize classical Fourier analysis on a case-by-case basis, providing a novel approach towards signal processing of nonlinear time series.